THERMAL INSULATION - CORDS AND PACKINGS
Gambit Lubawka Sp. z o.o. is a manufacturer of braided packings for static and thermal insulation applications. Our offer features thermal insulation cords also. Braided packings are compositions of yarns braided diagonally, whereas the cords have soft, fibrous core and yarn overbraiding. Design, yarns, and materials vary depending on a working temperature and pressure. In multiple cases combinations of yarns are used to achieve the optimal functionality. Packings and cords detailed herein are mostly used for thermal insulation of both hot and cold media, e.g., in various types of water, steam, ventilation, and flue ducts. They are used to insulate boilers, tanks, furnace chambers, and drier chambers, as well as ball and jet mills.
When installing contemplated packings and cords consider local conditions of mounting and use in a given application. Such factors as vibrations from installations, frequent opening of chamber doors, local overheating, or occurrence of extraordinary, chemically aggressive substances, as well as significant wear of the insulated node can affect the lifecycle and efficiency of packings used. Over-braided cords produced by Gambit have dense braid, thanks to which they feature higher durability than twisted cords, and cords over-braided with just a thin mesh of yarns or wires. All packings are standardly executed in square version, however they can be executed in round version upon request. Hardness of packing and any custom designs are subject to arrangement.
Materials used in production of thermal insulation cords:
1.  Glass rovings – a bundle of parallel, continuous glass fibres of type E glass.
2. Textured glass yarn – a bunch of twisted, continuous glass fibres type E; subjected to a curling process which increases the elasticity and improves the efficiency of insulation.
3.  Aluminosilicate yarn – yarn based on ceramic, aluminosilicate fibres featuring high chemical purity and increased heat resistance. It contains ca. 18% of organic fibres, which in the beginning of operation burn out without aggravating utility properties of a packing/cord.
4.  Core made of aluminosilicate fibre – cut aluminosilicate fibre formed as soft and elastic core.
5.  Bio-soluble ceramic yarn – thanks to the addition of calcium oxide and magnesia, fibres of this yarn type are biodegradable and, hence, considered safe to living organisms.
More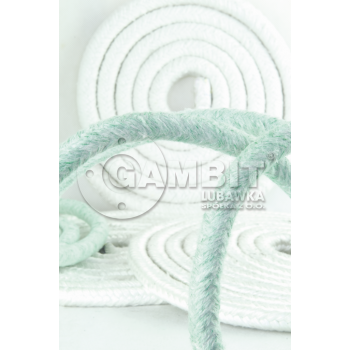 All information in this catalogue is based on years of experience in manufacture and use of the discussed products. Since sealing performance in the joint is subject to multiple factors such as mounting method, system parameters, and sealed medium, technical parameters specified herein are of informative nature only and cannot be used as grounds for any claims; any special uses of products are subject to consulting with the manufacturer.