Nowadays we must manage the energy in a rational way.
Technological development sign for any user is to use the latest thermal insulations.
Gambit products can be characterized by:
- refractoriness up to 1500 oC
- low density up to 1,5 g/cm3
- open porosity from 40% to 85%
- low rate of heat conduction below 0,6 W/mK
Various techniques of GAMBIT Lubawka Sp. z o.o. can guarantee excellent production of the following assortment:
1. Sealants and heat-insulating ropes
2. Woven clothes and belts
3. Sack, woven sleeves and sewn of belts sleeves
4. Blankets, pillows, screens, shields
5. Card boards
6. Boards and profiles formed vacuosly
More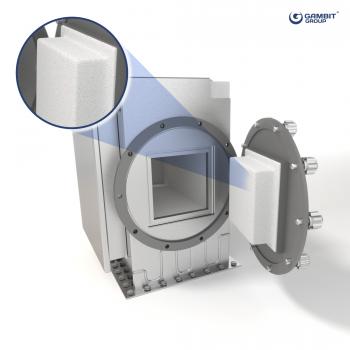 All information in this catalogue is based on years of experience in manufacture and use of the discussed products. Since sealing performance in the joint is subject to multiple factors such as mounting method, system parameters, and sealed medium, technical parameters specified herein are of informative nature only and cannot be used as grounds for any claims; any special uses of products are subject to consulting with the manufacturer.